As the United States navigates its way out of the COVID-19 pandemic, long discussed concerns regarding a post pandemic market are taking hold. Large government stimulus, supply chain disruptions, and labor shortages may hinder progress on construction projects leading into 2022-2023. The unpredictable nature of the market is also causing problems for contractors who must guarantee prices and timelines for government projects even before formally ordering materials and assigning tasks. Contractors and their public sector clients must take careful steps to control costs and to minimize project disruptions as a result.
Here we explore recent labor trends, supply chain, and economic trends and their ongoing impact on government and other public sector construction projects.
Ongoing Labor Shortages
The number of construction employees grew by roughly 1.8 million from 2010 to 2020 with a CAGR of 2.8%, the U.S. Bureau of Labor Statistics (BLS) reports. But the BLS also indicates the number of construction employees in the United States dropped precipitously between 2020 and 2021, with numbers reaching lows not seen since the previous decade. Therefore, while we expect that labor rates will eventually fall back in line with previous predictions and expectations, construction projects in the near future will continue to experience the effects of higher labor rates, and, consequently, higher project costs. In the short-term, the lack of workers and increased wage rates demand a higher wage premium. In the long-term, these numbers will improve with growth rate comparable to pre-pandemic levels.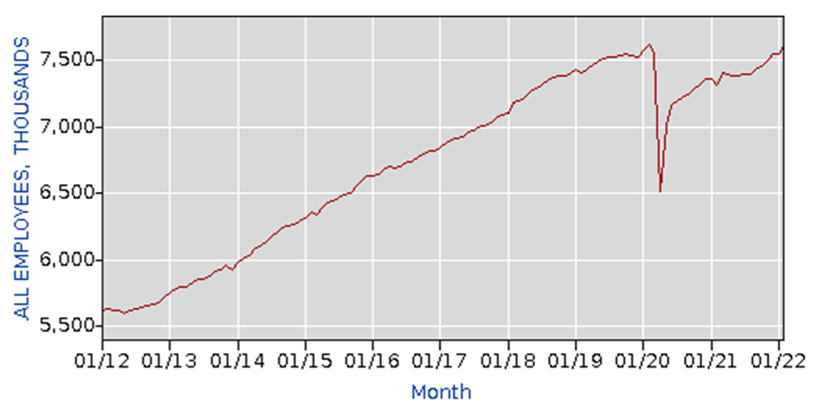 Source: data.bls.gov
Growing Materials Costs from Inflation & Supply Chain Issues
The BLS Producer Price Index (PPI) for new office building construction climbed 13.2% in Fiscal Year (FY) 2021, driven in part by continued volatility in materials costs and supply chain issues that are also lengthening project lead times. The most volatile price increases include fabricated structural metal products, iron and steel, and steel mill products, among others. In addition to materials' costs, freight and fuel surcharges are becoming more common. Indeed, gas prices increased 40% from 2021 to 2022 —a larger increase than any other over the past 15 years or more. Small increases in the BLS PPI Index suggests even larger increases in gas prices and the rising inflation rate.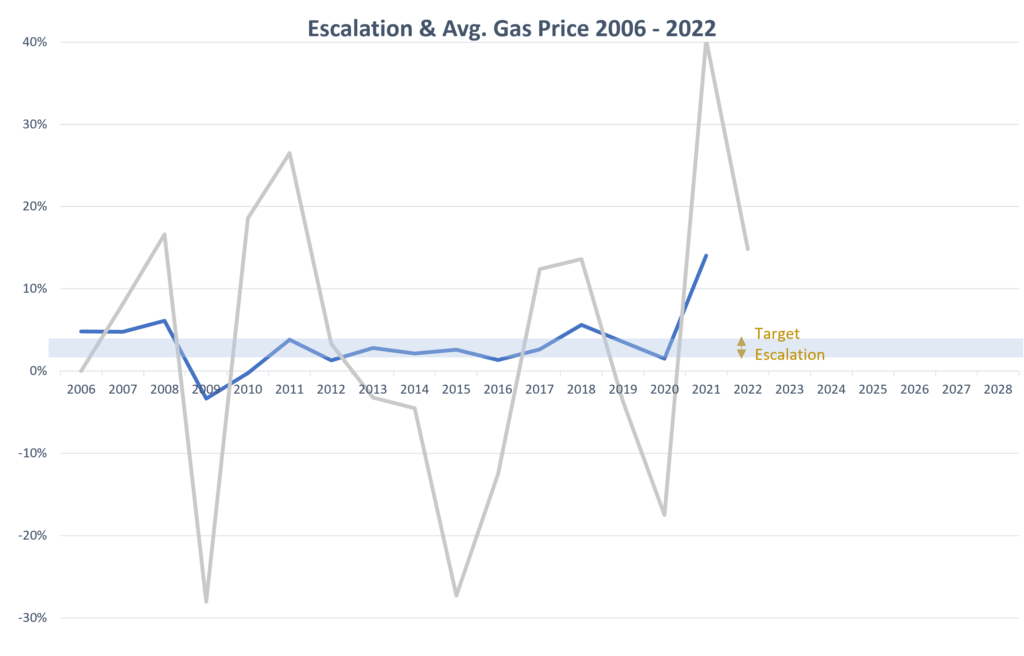 Source: bls.gov
Improved Conditions in the Medium- to Long-Term
The data illustrates that the U.S. economy has become a "Service Economy". As the employed working population in the United States shifts away from products and into the services sector, this reduces workers involvement in tangible products. With services expenditures shrinking in the last 24 months, there has been a influx of capital into the products sector that is causing numerous supply chain issues.
As the economy starts to open and services sectors begin to build back up, the outlook for the U.S. construction industry remains stable in the medium-to-long term. This is especially true as government spending on infrastructure stands to support the construction market, incentivizing both suppliers and contractors to overcome existing supply chain and logistics challenges as materials markets stabilize.  
Source: data.bls.gov Source: The White House
Next Steps for Project Owners
Government and other public sector project owners should begin their procurement processes earlier than they have in past years to ensure they are prepared for any delays cause by material or labor shortages in the near term. Should you have a project going into construction in the next 12-24 months, as an example, preparation could include ordering materials early and storing them until they are needed.
We forecast that inflation will peak in 2022 to 13.2% and begin a three year decrease between 2023-2025 to a closer target level of 3% in 2026.
Inflation Forecast:
2022 – 13.2%
2023 – 8.7%
2024 – 4.2%
2025 – 3.7%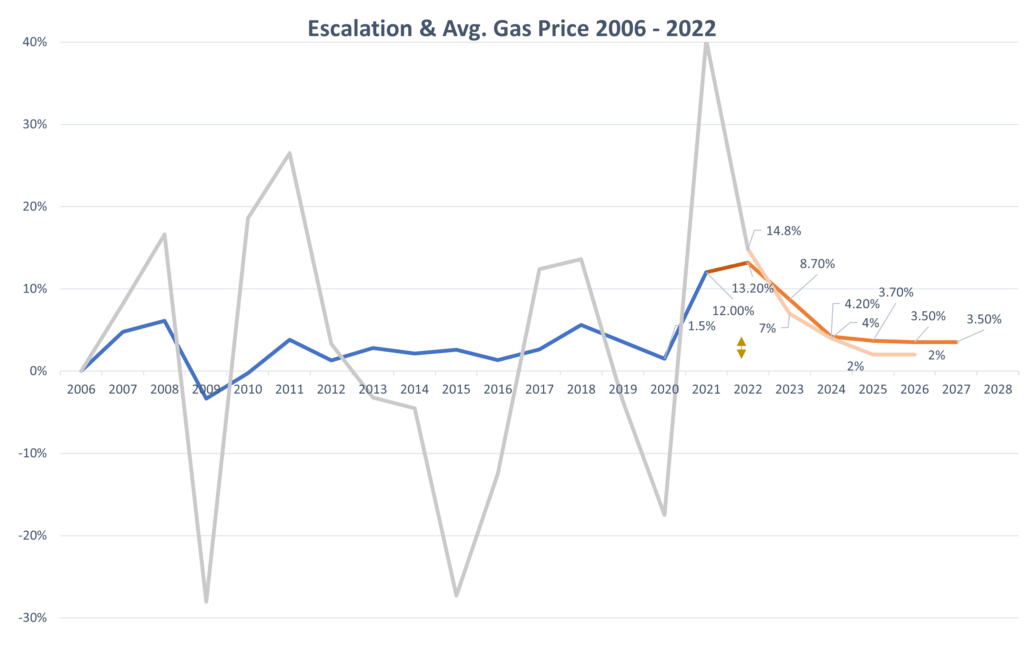 At Alliance, we understand the unique challenges associated with public sector construction projects—especially under today's market conditions. Our team of designers and professionals have in-depth knowledge and expertise to deliver sustainable projects that meet the government's needs. For more insights into the future of the industry or to discuss your next project, contact Alliance today.